News
Pike Road Wines is in the press! Below you'll find all press and reviews for our wines in the media.


Josh Raynolds of Vinous awarded our 2018 Temperance Hill Pinot Noir a 93 point score:
"Glistening ruby-red. Potent, spice- and mineral-accented aromas of cherry, raspberry, rose pastille, exotic spices and musky underbrush. Appealingly sweet and lively on the palate, offering intense cherry and black raspberry flavors that unfurl slowly on the back half. Shows very good depth but comes off energetic, finishing sappy and very long, with resonating spiciness and smooth, harmonious tannins." - Josh Raynolds, August 2020
Vinous has subscribers in over 80 countries and is one of the most respected wine publications in the world. At the intersection of media and technology, Vinous is Antonio Galloni's vision of a modern-day wine publication. Vinous's team of renowned critics and writers offers in-depth coverage of new releases, retrospectives and verticals of older wines, videos with winemakers, interactive maps, restaurant recommendations and more, all published in a continual, daily stream of articles.
Learn more and read the reviews at vinous.com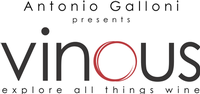 Wine Enthusiast Magazine awarded our 2018 Meyer Vineyard Pinot Noir a 90 point score:
"Fruit purchased from this Lemelson vineyard is featured here, in a forward style that wraps in broad streaks of tobacco and cola around core fruit flavors of blackberry and cherry. It's quite young and the best drinking window is some years away, but the components are there for a quality bottle." - Paul Gregutt
This review posts in the August issue of Wine Enthusiast and at winemag.com


Wine Enthusiast Magazine awarded our 2018 Shea Vineyard Pinot Noir a 91 point score:
"This stellar vineyard shines in this wine, offering firm, well-defined tones of purple and black fruit. It's polished to an almost-velvety smoothness, and the lush fruit is coated with darker flavors of coffee and chocolate" - Paul Gregutt
This review posts in the August 2020 of Wine Enthusiast Magazine


"Pale ruby, the 2017 Pinot Noir Temperance Hill Vineyard opens with charcuterie, cranberries, red currant and wild blackberries with accents of amaro, earth and potpourri. It's light to medium-bodied with floral-tinged fruits, a firm frame and juicy freshness, finishing long and spiced. 200 cases produced." - Erin Brooks, April 2020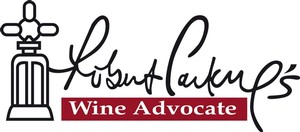 Robert Parker's Wine Advocate awarded our 2017 Shea Vineyard Pinot Noir a 91 point score:
"Pale to medium ruby, the 2017 Pinot Noir Shea Vineyard has slowly opening aromas of rose petal, orange peel, charcuterie and black tea leaves with blackberries and red and black cherries. It's light to medium-bodied with a good core of spicy fruit, a grainy frame and long, fresh finish. 500 cases produced." - Erin Brooks, April 2020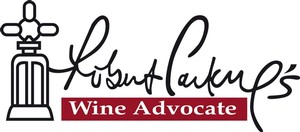 "Pale to medium ruby-purple, the 2017 Pinot Noir Meyer Vineyard, made with about 30% new oak, is scented of prosciutto, cranberry sauce, red and black cherries and red currants with hints of licorice, earth and potpourri. It's light-bodied with a savory core, juicy freshness and a soft frame, finishing very spicy. 200 cases were made." - Erin Brooks, April 2020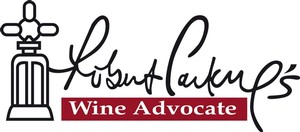 To create an AVA (American Viticultural Area) it takes years of climate, soil, watershed, and historical research along with the cooperation of a diverse group of people to get it over the finish line. In other words, it is no easy feat to define a unique growing area. Having been around the process in my past, one local AVA has always stuck out as impressive for its size and diversity. To me, it's a true example of wineries working together for a singular purpose – something the Willamette Valley does better than most wine regions.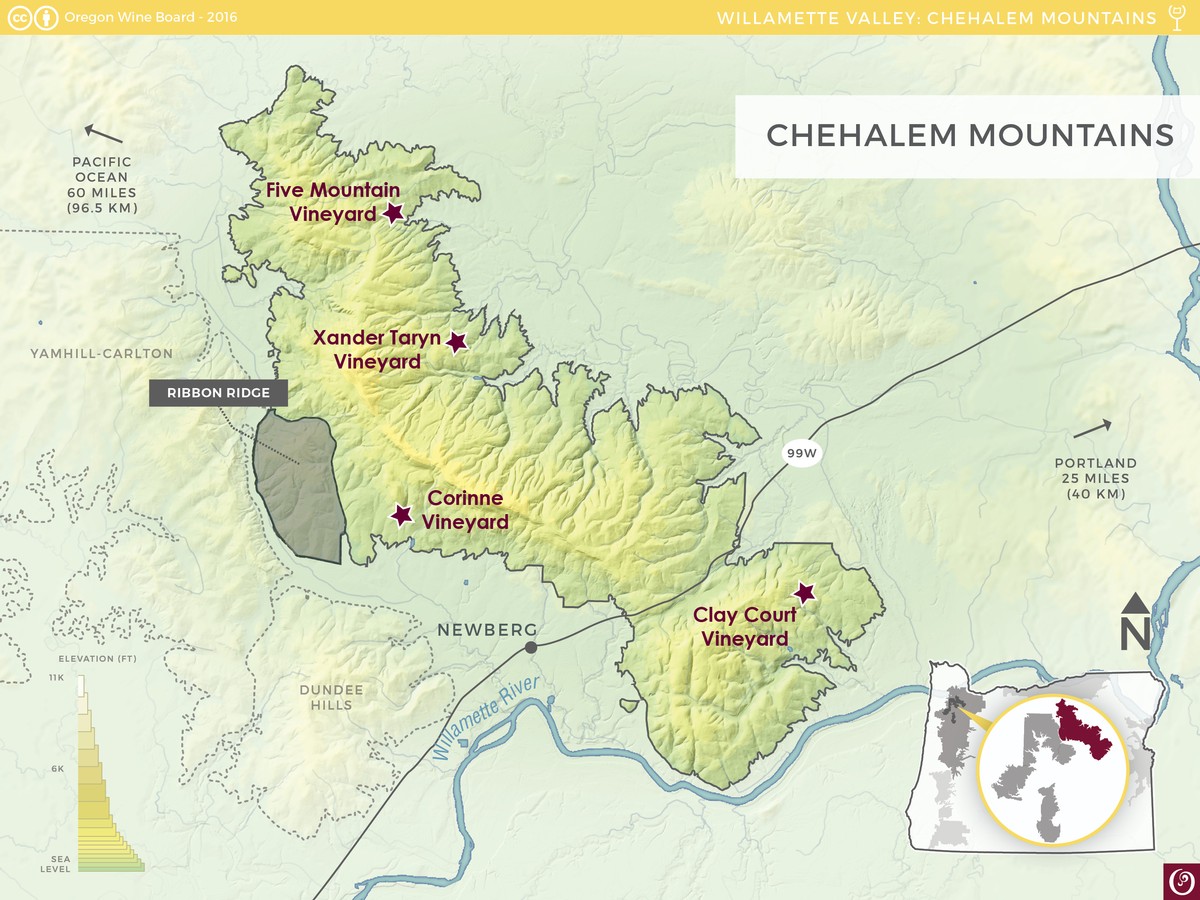 The Chehalem Mountains AVA is a mountain range that runs northwest to southeast, separating the commuter cities of Portland from the farmland communities of the northern Willamette Valley. To me, it's the unwritten line of where Oregon wine country truly begins. It's a long mountain with cities on both sides and a lucky few living within its boundaries. On the south side, it runs from near the coastal range and the tiny town of Laurelwood (close by Gaston) past the city of Newberg to the east. On its north-side, it runs from nearby Forest Grove/Cornelius east to the city of Sherwood. I've driven over it a countless number of times with my favorite route being Balk Peak Road - the views and changes in landscapes are incredible! Crossing the north-south axis, I've always been fascinated by the difference in temperature, aspects, and soils and the same can be said for the east-west axis, where rainfall, temperatures, and soils can range quite a bit.
We are blessed to work with several vineyard partners spread throughout this diverse AVA ranging non-estate sites like Xander Taryn and Corinne (previously Olenik) to a couple of the Elk Cove estate vineyards - Clay Court and Five Mountains. These vineyards are great points of reference because they are evenly spread throughout the AVA and help to tell the geographic and geologic story of this highly complex AVA: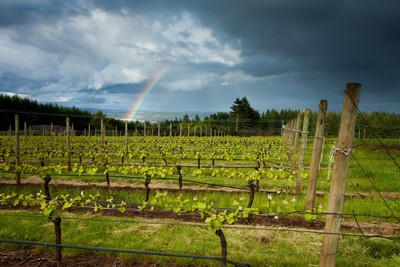 Clay Court Vineyard is on the far northeast edge of the AVA and is found in a beautiful area called Parrett Mountain. Here temperatures are generally warmer, and the weather is a bit drier than that of the west end. Geologically it is very similar to the Dundee Hills with abundant volcanic clays like Jory and Nekia. To me it's the mirror image of Dundee without the big-name vineyards and wineries, sculpting wines with similar cherry fruit and clove spice notes.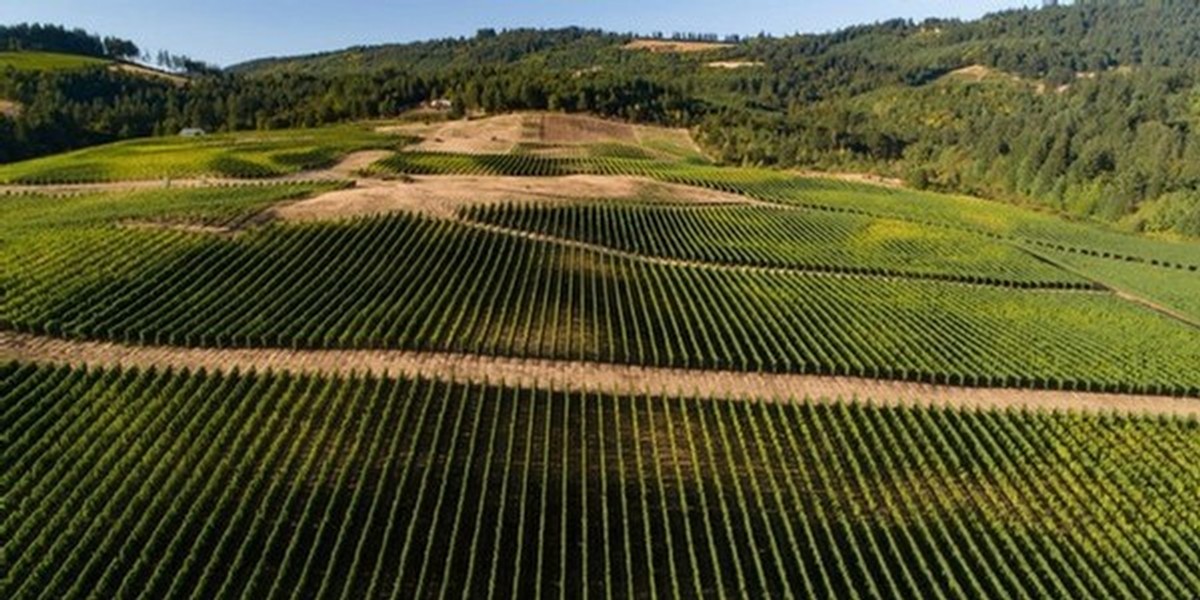 Corrine Vineyard (previously Olenik Vineyard) is located in the southwest quadrant of the AVA near the dividing line of the Chehalem Mountains AVA and Ribbon Ridge AVA. Here you'll find a mix of ancient marine sediments with areas of volcanic basalt rock. With good south/southeast exposure, the temperatures here can be quite warm in the summer, but it's the unique blend of soils from one vineyard to the next that makes this area special. The Pinot Noir from this zone tends to be a touch riper and show off a mix of black fruit with some candied red fruit.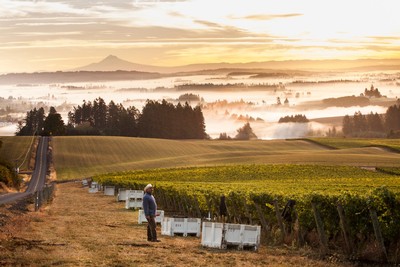 Five Mountain Vineyard is an older vineyard found in the northwest quadrant of the AVA closer to the town of Cornelius. The soils here are the windblown loess (pronounced "low·uhs") Laurelwood soils that created a thin silty veneer over the volcanic basalt bedrock. These soils define the region and the style of Pinot Noir grown here. Being farther west, it's a little cooler and wetter, and you'll find Pinot Noir with a more delicate structure in most vintages showing lots of floral and spice.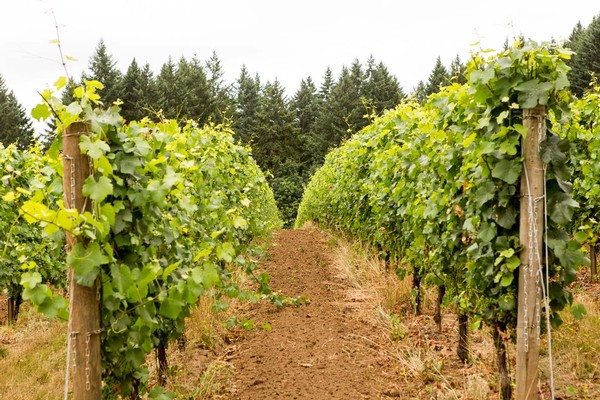 Xander-Taryn Vineyard is situated closer to the center on the north side of the AVA, closer to the city of Sherwood. Here the aspect faces more easterly towards Parrett Mountain but with a northern tilt to it. Here you'll find the same shallow windblown Laurelwood soils as Five Mountain, but Xander Taryn is surrounded by dense conifer forest which helps insulate the young vineyard. This area produces a slightly darker Pinot Noir with blue fruit and exotic spices.
Our 2015 Chehalem Mountain AVA Reserve Pinot Noir was a special one-time-only release by our winemakers to celebrate these unique vineyards and a special AVA. As time goes on, I believe the Chehalem Mountains will continue to further delineate these unique growing areas, by creating smaller sub-AVAs that focus on these special characteristics. Petitions have already been submitted for the northern side – soon to be called the Laurelwood AVA. But, for now, we can just enjoy the simplicity of great Pinot Noir from a special AVA.
Dane's Tasting Notes: With 5 years of age, you will experience a softer texture without the big tannins sometimes found in 2015 wines. The fruit leans to an array of red fruit with hints of spice and earth starting to peek through. This wine is by far the silkiest and one of the most seductive of the Pike Road line-up. I believe it's near the peak drinking window right now but if you love the earth tones it could be held for a few more years.
Cheers,
Dane Campbell | Certified Sommelier & Certified Specialist of Wine | Pike Road Retail Wine Director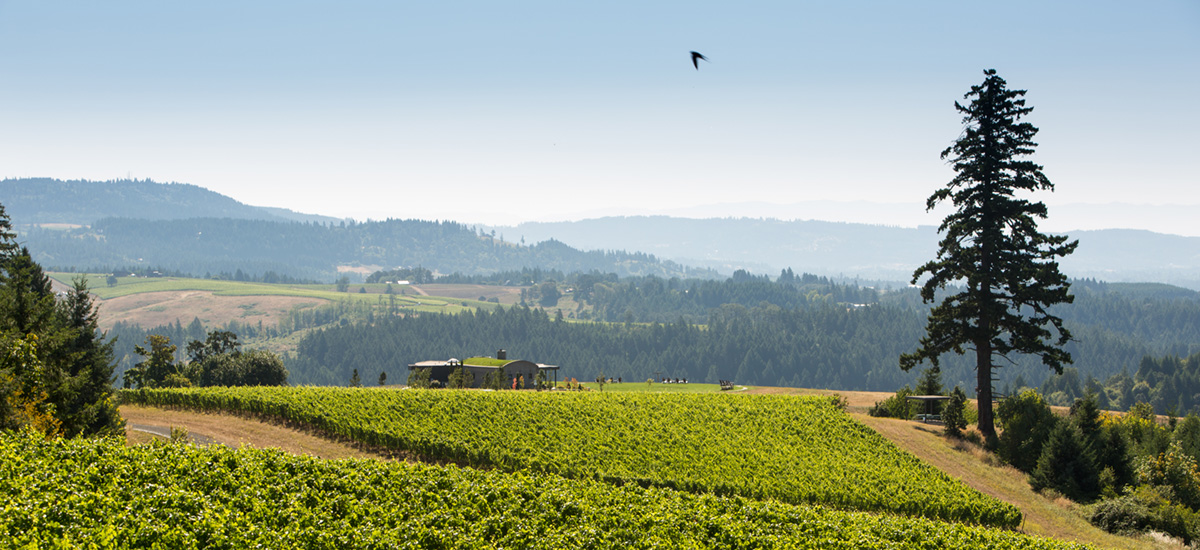 Not long after I arrived at Pike Road in February 2018, we released our 2016 Pinot Noir from Fairsing Vineyard. The wine was interesting and delicious, but a bit shy at first. As it aged over the following year or two, it blossomed into one of my favorites from our Single Vineyard line-up. I kept hearing about the epic views and natural beauty of Fairsing Vineyard from customers and industry friends alike, so I took a trip down the road to meet the McNallys and learn more about their story and vineyard.
On the day of our visit, It was one of those stunningly clear summer mornings. As we stood admiring the incredible views, we were greeted by the acrobatic display of a Kestrel Hawk scouting the vineyards for an early lunch. It zigged and zagged around a massive old-growth Douglas Fir, said to be hundreds of years old. This tree towers over the landscape as a relic of the property's ancient heritage.
Soon after, owners Mike and Mary Ann McNally joined us in admiring the beauty. It did not take long to feel their passion for the land's ecology and their influence on its future. We learned that Mike spent most of his career within the energy field, while Mary Ann worked with elementary children as a speech therapist. Their careers gave them a unique perspective and appreciation for the environment and the future of our planet, inspiring them to pursue sustainable farming and Salmon Safe methods. To go above and beyond these certifications, they also eliminated herbicides from the property, minimized the use of sulfur, replanted clear cut areas, and left most of their 190-acre property open to wildlife. Mary Ann even took up beekeeping to help with the diminishing populations in the area and now has four hives!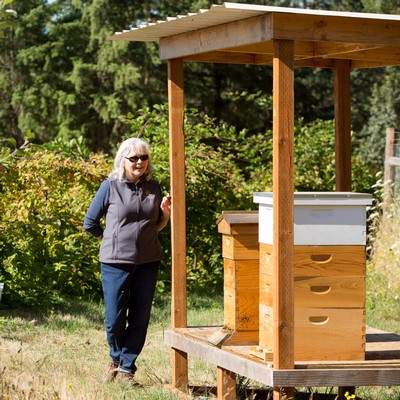 left: Mary Ann with her bees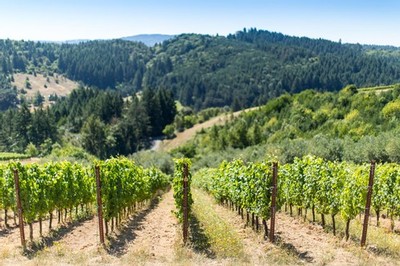 The first time the McNallys laid eyes on the property it was a classic Oregon winter day – cold, gray, and drizzling – with pesky clouds blocking any sense of the dramatic views in front of them. It wasn't until their second trip on a clear day, that the property's true beauty and potential unveiled itself. Once they took ownership and decided to pursue a vineyard with a tasting room, they knew they wanted to pay homage to their family heritage. They had discovered that 15 of their 16 grandparents on both sides were Irish, so they named their vineyard 'Fairsing' a Gaelic term for "bounty."
In 2006, they prepped and planted the east side of the property followed by the west side in 2007. In total, they planted 38 acres of Pinot Noir and 3 acres of Chardonnay. It was at that point that Elk Cove (and future Pike Road) owner/winemaker Adam Campbell came into their lives. He provided Mike and Mary Ann with some helpful mentorship while they solidified their plans to create a vineyard and tasting room. In thanks for Adam's sound advice, Mike offered Adam two of his favorite vineyard blocks and clones in 2009: Pommard from the east side (Block 9 - photo to the right) and Dijon 777 from the west side (Block 12.)
Passion in the vineyard always leads to better grapes. As we walked through the two Pike Road vineyard blocks, Mike expressed his love for farming and the detail that goes into each block on the incredibly complex hillsides. Mike noted the distinctiveness of the two sides of the property- East & West, with up to two weeks difference in ripening in some vintages. His detailed understanding of farming the variations of ancient marine sediment soils in the area are impressive and a big reason why Fairsing Vineyard produces grapes that showcase the site so well.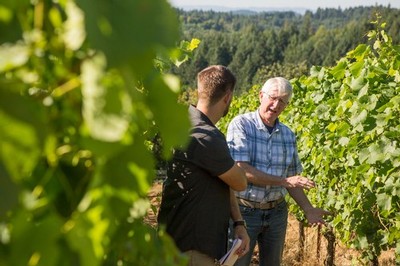 left: Mike McNally talks vine canopy management
As we visited their beautiful home and tasting room it became clear that nothing on the property is there by chance. Every detail has a purpose. The influence of Mike and Mary Ann's core ecologic values, family heritage, and life lessons is sprinkled throughout the beautiful estate. Their gorgeous tasting room was built to follow a circular nature with special stones that represent the five ancient kingdoms of Ireland. Mike taught me how to follow the 7th Circle Labyrinth in front of their tasting room in a single meditative path to the center. It represents life's journey, a meandering, sometimes confusing path that eventually leads you to the center, just like Mike and Mary Ann's journey from Nebraska to Texas and now Oregon to Fairsing Vineyard, exactly where they are meant to be.
A visit to Fairsing Vineyard is one of those truly special Oregon wine country experiences. When you crest the hill and see the stunning vistas, you sense of the magic this place holds. Our visit with the McNally's was very special, their love for the land finds its way into the genuine wines they make under their Fairsing label and the fruit they grow for Pike Road and others. Spending time on the property and feeling this connection made me love our 2016 Fairsing Vineyard Pinot Noir that much more.
To support the McNally Family, visit their tasting room or purchase a bottle of our 2016 Fairsing Vineyard Pinot Noir.
Cheers,
Dane Campbell | Certified Sommelier & Certified Specialist of Wine | Pike Road Retail Wine Director
Photography by Anna Campbell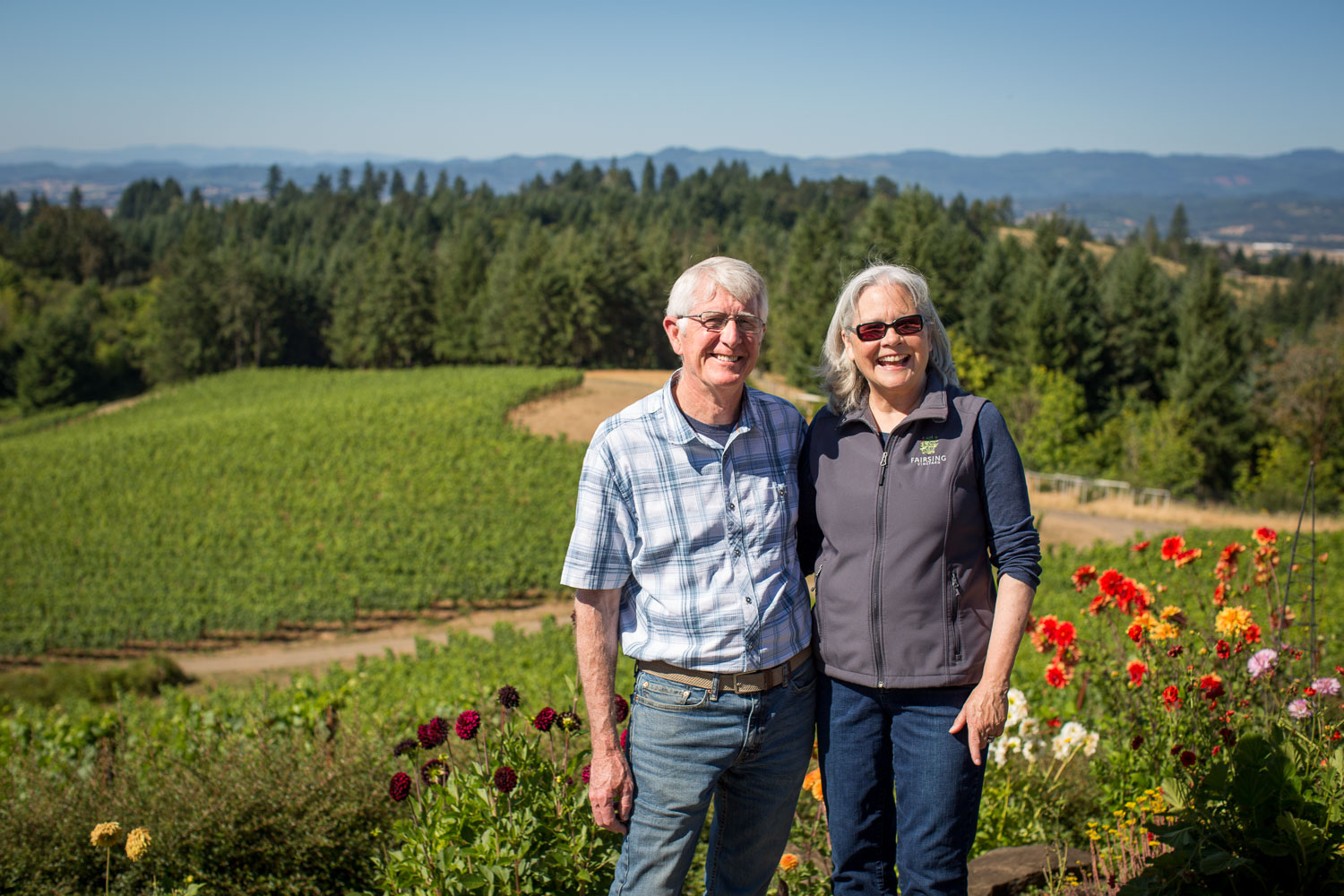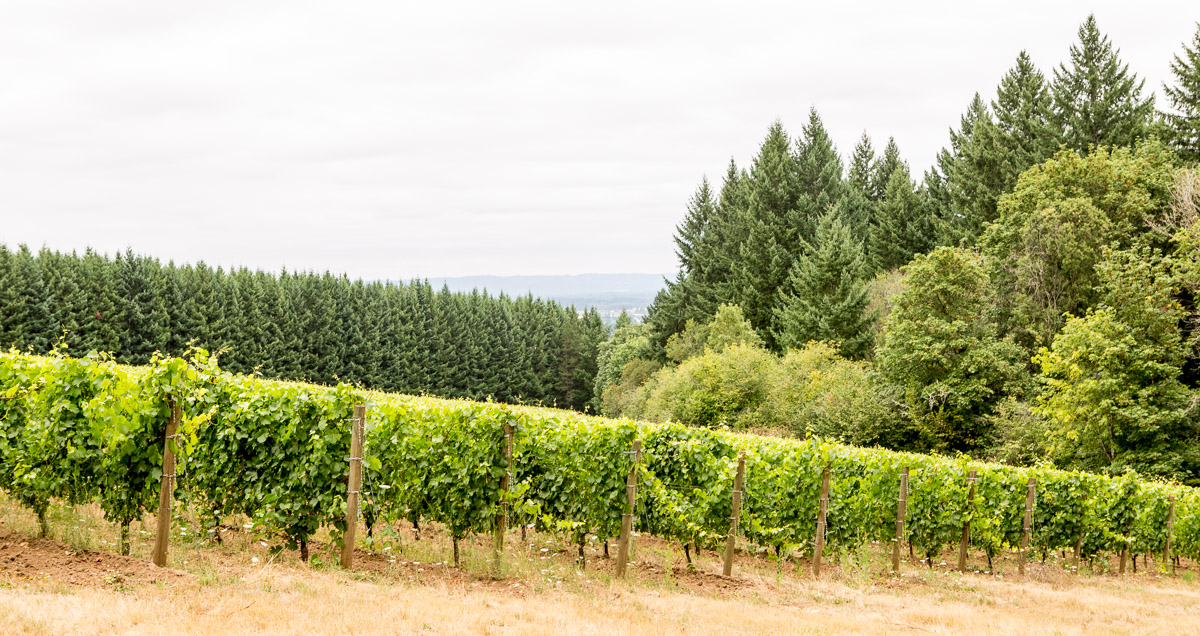 Xander Taryn Vineyard is surrounded on all sides by trees
We get fruit from some super-star vineyards of the Willamette Valley - well-established names and reputations like Shea, Temperance Hill, and Zenith. Winemakers love to work with these benchmark sites, but sometimes the real fun is the discovery of something relatively unknown and being on the cutting edge of something new. Xander Taryn Vineyard is one of these emerging young vineyards.
Neatly tucked into the hills on the north side of the Chehalem Mountains AVA, owner Donna Knight and her husband purchased the beautiful property above Sherwood in 2004. It was Donna's long-term dream to build a thriving urban winery and tasting room. They broke ground on a small 7-acre vineyard in 2012, and Donna named it for their two eldest children – Xander & Taryn.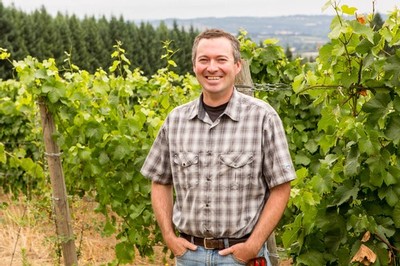 Serendipitous for Pike Road, winemaker Adam Campbell was on the search for vineyards to start up his new Pike Road project in 2015, just as this young vineyard came on-line with its first crop of Pinot Noir and Chardonnay. Adam knew first-hand the quality of fruit from this section of the Chehalem Mountains because his Five Mountain Vineyard is just a few miles away. Both vineyards share the same precious Laurelwood (wind-blown loess) soil and Adam knew the farming talent of vineyard consultant Evan Bellingar (left).
On a gray summer afternoon, Evan walked us through the 7-year-old vines of this hidden gem, sharing with us his passion for farming the site. After attending Oregon State University, he's been blessed to work with many of the best pinot noir sites in Oregon as Director of Vineyard Management with Results Partners. We could feel his excitement for this unique site and its future as the vines dig deeper into the volcanic bedrock. Evan absolutely loves farming the vineyard's shallow Laurelwood soil, finding they restrict excessive vigor (green growth) yet hold enough water during the summer to keep the vines healthy. This perfect balance of stress in the vineyard translates to healthy, concentrated grapes, and great wines.
On our walk he pointed out the small BB-sized pisolites around the base of the vines, only found in older Loess soils (see photo to the right.) These structures originate from magnesium and iron in the silt blown onto hillsides from the strong winds of the Columbia Gorge. Over thousands of years, the minerals weather into balls anywhere from the size of a grain of sand to the size of a pea. The magnesium content may help to de-vigor the vines.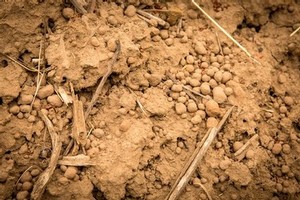 Walking this vineyard, it feels like you've entered a secret garden. Being completely surrounded by large conifer trees and big-leaf maples creates a unique feel and micro-climate. Situated at 600 feet of elevation, the vineyard is at the mid-slope "sweet-spot" found between 400-700 feet where Pinot Noir finds ample heat during the day along with cool nights. As we walked, Evan noted the subtle northern tilt to the vineyard's slope as a potential benefit in the warmer years we're experiencing in our changing climate.
We get fruit from two specific blocks at Xander Taryn of Dijon 777 and Pommard clones of Pinot Noir. Both clones are favorites of local winemakers, including our own, with Dijon 777 bringing impressive body, texture, and aromatics, while Pommard is known for adding that classic Oregon typicity of fruit and spices. As fun and interesting as single-clone wines are, often the best Pinot Noirs are made by blending multiple clones, with each clone bringing a unique character and subtlety to the final blend.
Tasting the wines from this special site screams Pinot Noir grown on Laurelwood soils. We've made two single-vineyard wines from Xander-Taryn Vineyard, which is rare for such a young vineyard. Both releases have shown an impressive concentration of ripe blueberry fruit and exotic spices (signatures of the soil type.) The 2016 vintage has a bit more delicacy and elegance to it, while the new 2018 release is a slightly bolder expression with a more savory/meaty edge to it.
Evan loves the early returns and sees a bright future for this young vineyard site. As the quality of Willamette Valley wines gains more of the limelight, these under-the-radar vineyards are going to be harder and harder to find. It's a good problem to have, but if you've experienced our 2016 and newly-released 2018 Xander Taryn Pinot Noir, you'll know secret spots like this will soon be discovered.
Cheers,
-Dane Campbell | Certified Sommelier & Certified Specialist of Wine | Pike Road Retail Wine Director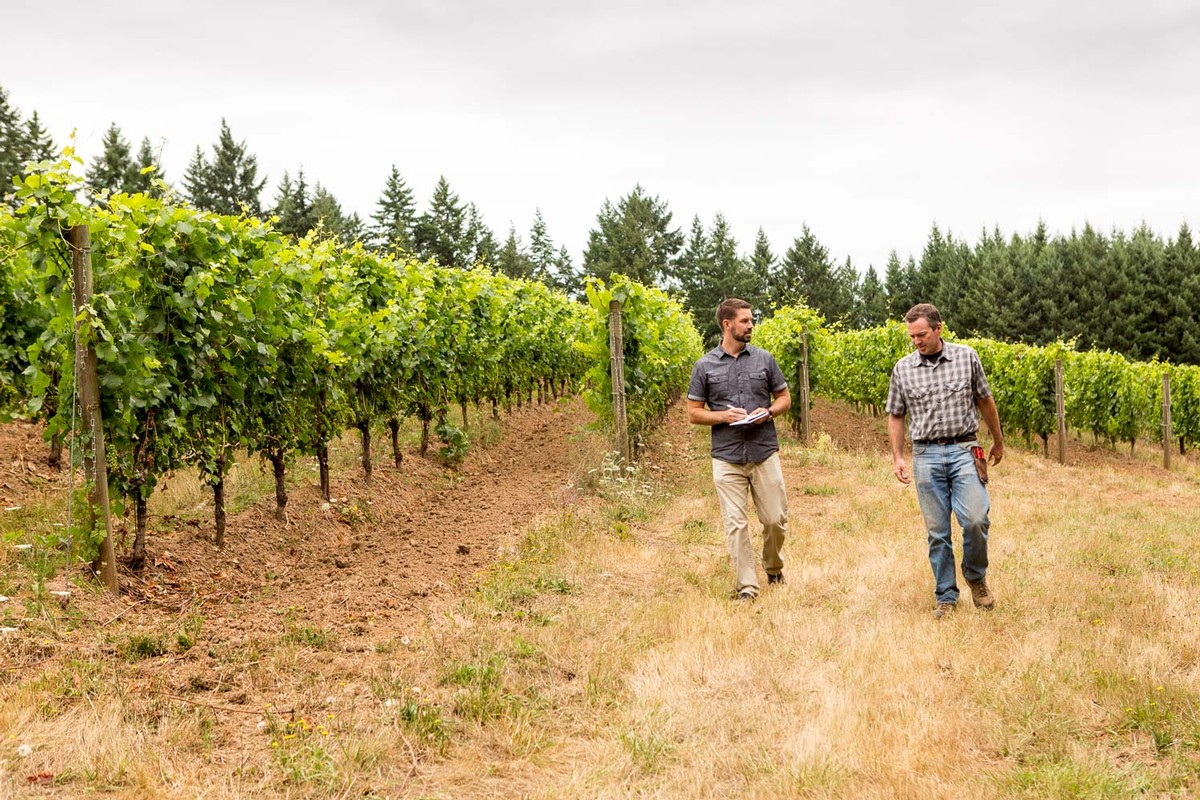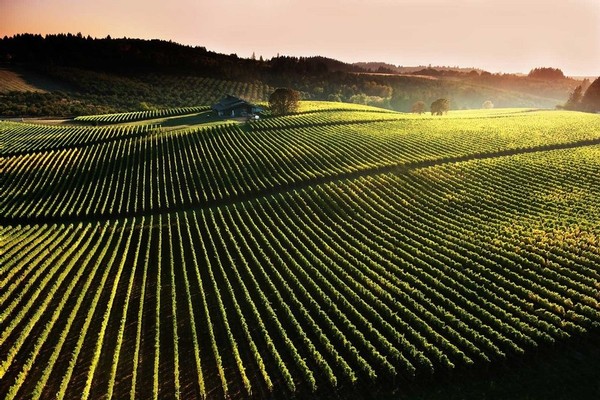 Shea Vineyard in Yamhill, Oregon
Prestigious wine reviewer Anthony Dias Blue has awarded our 2018 Shea Vineyard Pinot Noir 93 points:
"Medium ruby color with bright cherry nose; fresh, silky-textured and showing fresh fruit and graceful style; a stylish example of what this famous vineyard can produce in competent hands" - Anthony Dias Blue
These reviews may stand alone or be accompanied by tasting notes in either Tasting Panel Magazine or the Somm Journal.
THE TASTING PANEL's Editor-in-Chief, Anthony Dias Blue, is the recipient of a 2001 James Beard Foundation Award. His wine reviews are featured in Tasting Panel Magazine, the Somm Journal, at bluelifestyle.com and on the "Blue Lifestyle Minute" radio program.
The Tasting Panel magazine is the most widely circulated trade publication in the beverage industry.