May 7, 2020 | Vineyards | Anna Campbell
Fairsing Vineyard: Rooted in Heritage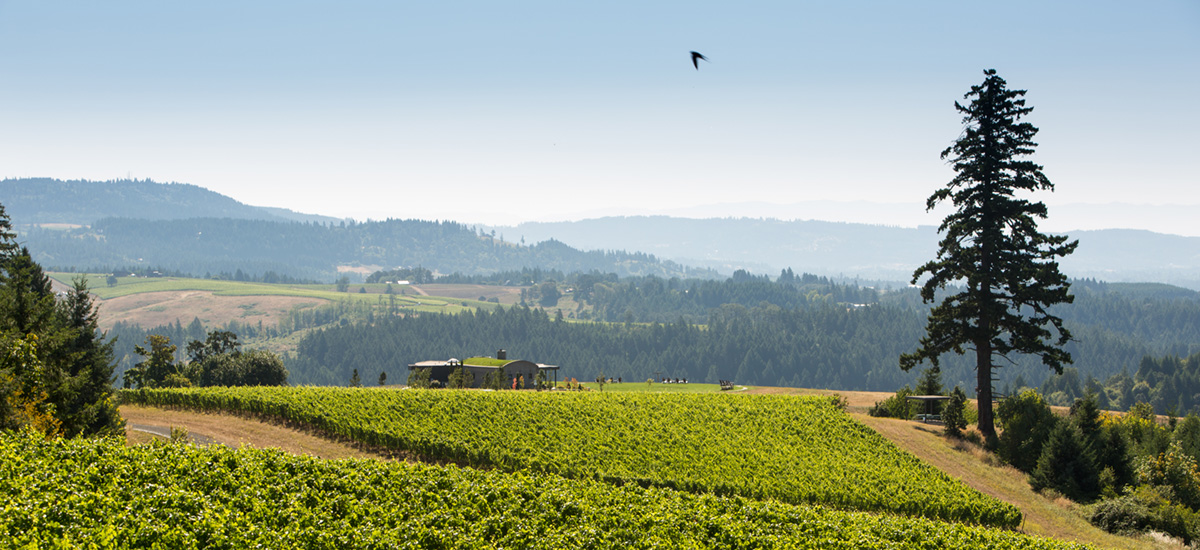 Not long after I arrived at Pike Road in February 2018, we released our 2016 Pinot Noir from Fairsing Vineyard. The wine was interesting and delicious, but a bit shy at first. As it aged over the following year or two, it blossomed into one of my favorites from our Single Vineyard line-up. I kept hearing about the epic views and natural beauty of Fairsing Vineyard from customers and industry friends alike, so I took a trip down the road to meet the McNallys and learn more about their story and vineyard.
On the day of our visit, It was one of those stunningly clear summer mornings. As we stood admiring the incredible views, we were greeted by the acrobatic display of a Kestrel Hawk scouting the vineyards for an early lunch. It zigged and zagged around a massive old-growth Douglas Fir, said to be hundreds of years old. This tree towers over the landscape as a relic of the property's ancient heritage.
Soon after, owners Mike and Mary Ann McNally joined us in admiring the beauty. It did not take long to feel their passion for the land's ecology and their influence on its future. We learned that Mike spent most of his career within the energy field, while Mary Ann worked with elementary children as a speech therapist. Their careers gave them a unique perspective and appreciation for the environment and the future of our planet, inspiring them to pursue sustainable farming and Salmon Safe methods. To go above and beyond these certifications, they also eliminated herbicides from the property, minimized the use of sulfur, replanted clear cut areas, and left most of their 190-acre property open to wildlife. Mary Ann even took up beekeeping to help with the diminishing populations in the area and now has four hives!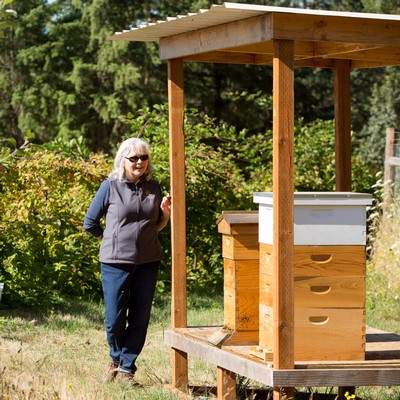 left: Mary Ann with her bees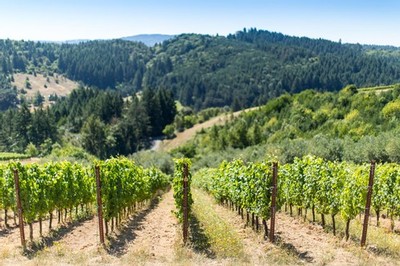 The first time the McNallys laid eyes on the property it was a classic Oregon winter day – cold, gray, and drizzling – with pesky clouds blocking any sense of the dramatic views in front of them. It wasn't until their second trip on a clear day, that the property's true beauty and potential unveiled itself. Once they took ownership and decided to pursue a vineyard with a tasting room, they knew they wanted to pay homage to their family heritage. They had discovered that 15 of their 16 grandparents on both sides were Irish, so they named their vineyard 'Fairsing' a Gaelic term for "bounty."
In 2006, they prepped and planted the east side of the property followed by the west side in 2007. In total, they planted 38 acres of Pinot Noir and 3 acres of Chardonnay. It was at that point that Elk Cove (and future Pike Road) owner/winemaker Adam Campbell came into their lives. He provided Mike and Mary Ann with some helpful mentorship while they solidified their plans to create a vineyard and tasting room. In thanks for Adam's sound advice, Mike offered Adam two of his favorite vineyard blocks and clones in 2009: Pommard from the east side (Block 9 - photo to the right) and Dijon 777 from the west side (Block 12.)
Passion in the vineyard always leads to better grapes. As we walked through the two Pike Road vineyard blocks, Mike expressed his love for farming and the detail that goes into each block on the incredibly complex hillsides. Mike noted the distinctiveness of the two sides of the property- East & West, with up to two weeks difference in ripening in some vintages. His detailed understanding of farming the variations of ancient marine sediment soils in the area are impressive and a big reason why Fairsing Vineyard produces grapes that showcase the site so well.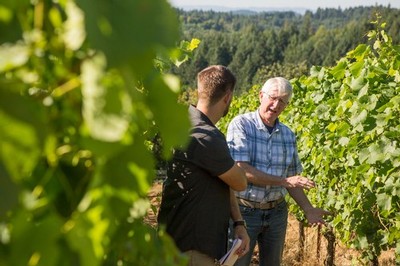 left: Mike McNally talks vine canopy management
As we visited their beautiful home and tasting room it became clear that nothing on the property is there by chance. Every detail has a purpose. The influence of Mike and Mary Ann's core ecologic values, family heritage, and life lessons is sprinkled throughout the beautiful estate. Their gorgeous tasting room was built to follow a circular nature with special stones that represent the five ancient kingdoms of Ireland. Mike taught me how to follow the 7th Circle Labyrinth in front of their tasting room in a single meditative path to the center. It represents life's journey, a meandering, sometimes confusing path that eventually leads you to the center, just like Mike and Mary Ann's journey from Nebraska to Texas and now Oregon to Fairsing Vineyard, exactly where they are meant to be.
A visit to Fairsing Vineyard is one of those truly special Oregon wine country experiences. When you crest the hill and see the stunning vistas, you sense of the magic this place holds. Our visit with the McNally's was very special, their love for the land finds its way into the genuine wines they make under their Fairsing label and the fruit they grow for Pike Road and others. Spending time on the property and feeling this connection made me love our 2016 Fairsing Vineyard Pinot Noir that much more.
To support the McNally Family, visit their tasting room or purchase a bottle of our 2016 Fairsing Vineyard Pinot Noir.
Cheers,
Dane Campbell | Certified Sommelier & Certified Specialist of Wine | Pike Road Retail Wine Director
Photography by Anna Campbell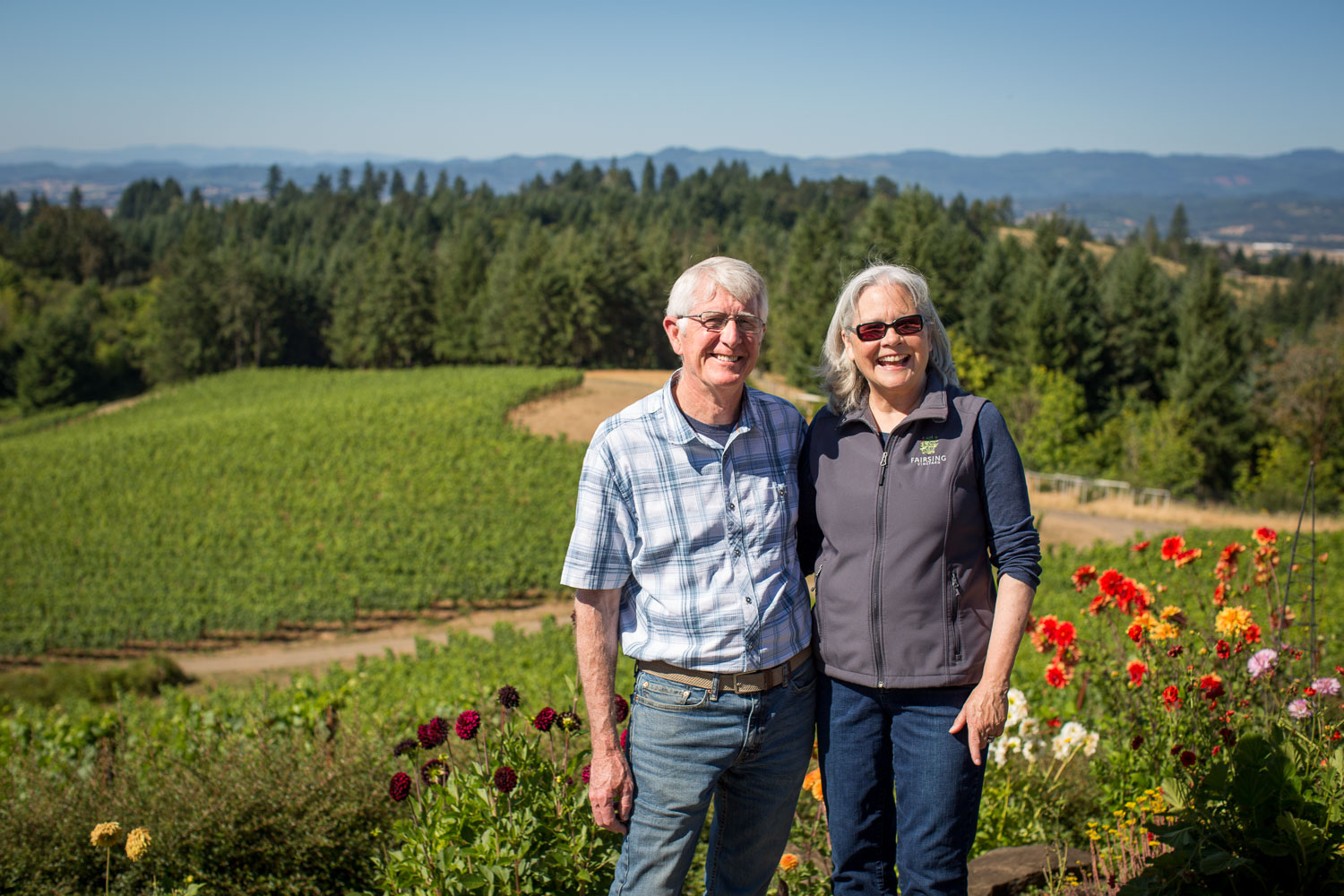 Comments
Commenting has been turned off.