News
Pike Road Wines is in the press! Below you'll find all press and reviews for our wines in the media.

Thank you to all of our wine club members who joined us across the street on the gorgeous outdoor patio of the 1882 Grille in McMinnville Oregon.


Pike Road Wines 2020 Chardonnay, Willamette Valley ($18) received 93 Points & "Best Buy!" from Great Northwest Wine

"Best Buy! The Campbell family and their longtime associate winemaker, Heather Perkin, began Pike Road Wines as they achieved their long-held dream of turning acclaimed Elk Cove Vineyards into a label that bottled only wines from estate vineyards. Chardonnay from Dr. Robert Matteri's eponymous vineyard near Pike Road is among the handful of sites Perkin works with on this bottling, which includes lots that saw some new French oak for nine months. That reference to French oak seems unreal because the profile is remarkably tropical, bright and refreshing, bringing a blend of guava, Bosc pear, white peach and apricot that's both aromatic and flavorful. While there are many examples of Chardonnay from the Willamette Valley that retail for more twice the price, few are as delicious. And downtown McMinnville is home to the new tasting room for Pike Road." - November 27, 2022 by Great Northwest Wine
Rating: Outstanding! — 93 points
Production: 2,545 cases
Alcohol 13%


90 Points
"Scents are clean with reined in toasty lemon bar and butterscotch. The palate intensifies with a rush of caramel and cantaloupe. Mandarin orange peeks through cookie batter on the finish. A lot going on!" - Meridith May
91 Points
"Aromas of baked apple, Asian pear, and lemon blossom help prove why this variety can be stunning from the Willamette. Lively notes of pine nut and tangerine are lined with a mineral coating. This pretty white finishes with grapefruit zest and peach pie." - Meridith May


"In the Willamette Valley, public transportation takes you to McMinnville, where you can walk to one, or all, of its nearly 20 tasting rooms.
I was looking for an accessible wine region — in terms of price, transportation and hospitality — when I went to the Willamette, which runs just over 100 miles from the outskirts of Portland to just south of Eugene. Here, in the mid-1960s, pioneering winemakers began growing grapes, particularly the finicky pinot noir variety that has since flourished, attracting more than 750 wineries today, many intimate enough for the winemakers themselves to guide tastings.
Rare among American wine regions, the Willamette Valley is connected to a public transportation system that links Portland to McMinnville, eliminating the "last mile" plague of public transportation systems that tend to strand riders just shy of their destinations. McMinnville is a pedestrian-friendly town of roughly 35,000 that serves as the area's hub. Taking the bus there would allow me to avoid driving to wineries — a precaution, given my lack of discipline to spit sufficiently at tastings — and to focus on the nearly 20 tasting rooms concentrated in town.
- Elaine Glusac Frugal Traveler, The New York Times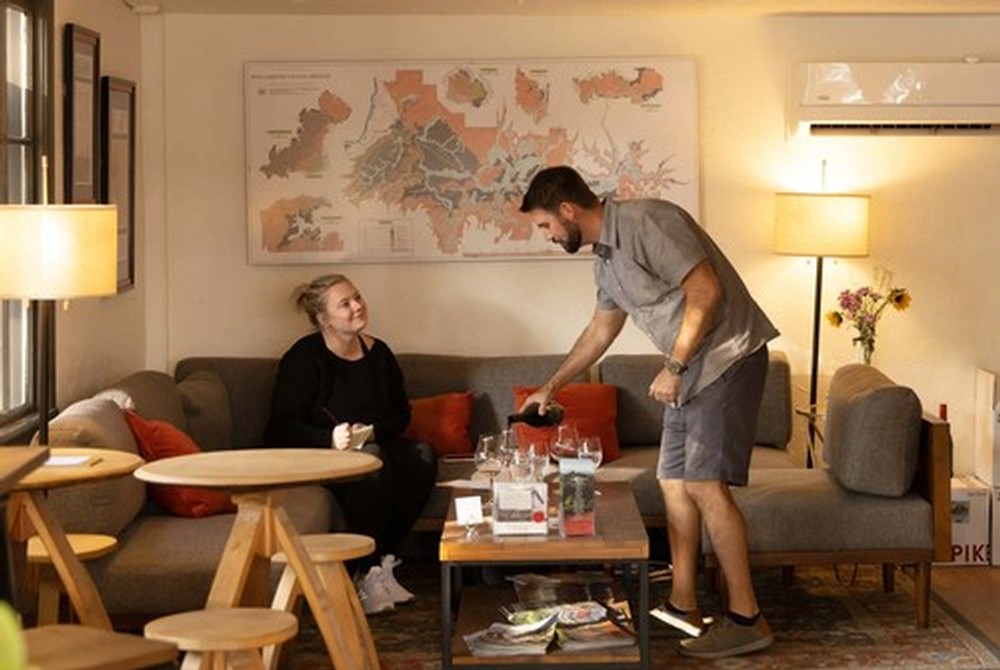 The tasting room at Pike Road Wines, in McMinnville. Photo taken by George Barberis for The New York Times
"Two blocks south, on the shop-and-restaurant-lined 3rd Street, I stopped into Pike Road winery, a town newcomer and sibling brand to the more established Willamette winery Elk Cove. Plans for a tasting room among the grapevines won't supplant the downtown tasting room, according to Dane Campbell, its director of retail sales.
"There's so much going on here, we wanted to be a part of it," he said, pouring a juicy 2020 pinot noir, and extolling the location as a valley hub." - Elaine Glusac Frugal Traveler, The New York Times
Want to read Elaine Glusac's full experience traveling to McMinnville? Check out the article here.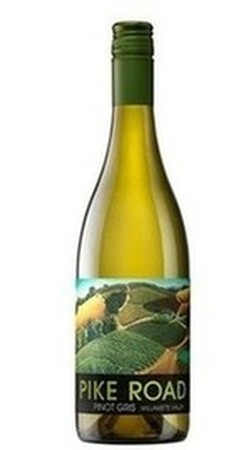 Pike Road Wines 2021 Pinot Gris won Double Gold at the Great Northwest Wine Invitational!
Great Northwest Wine conducts a one-of-a-kind wine competition each October where judges evaluate the wines from the Pacific Northwest. This year Oct. 4-6 2022 was the 10th annual competition and was held at the historic Columbia Gorge Hotel in Hood River, Or.
"The Campbell family's Elk Cove Vineyards and Pike Road Wines brands in the Willamette Valley saw four of its wines win a gold or better. The Elk Cove 2018 Estate La Bohème Brut Rosé reached the sweepstakes as the Best Sparkling Wine. It was nearly joined in the sweeps by the 2021 Estate Pinot Noir, which won a double gold and earned acclaim as Best Pinot Noir of the judging. The Elk Cove 2020 Estate Riesling was a high-scoring gold. The Pike Road 2021 Pinot Gris, made by associate winemaker Heather Perkin, won a double gold medal and was voted Best Pinot Gris, which was no surprise considering her Pike Road 2016 Pinot Gris won best of show at the 2017 Invite." - Eric Degerman, co-founder of Great Northwest Wine
Nominating judges for the 10th annual Great Northwest Invite include:
Katie Bray is the executive director of the Oregon Cheese Guild.
Ilene Dudunake owns A New Vintage Wine Shop near Boise, Idaho. (Read her profile in the Idaho Statesman.)
Stacey Gibson is an advanced sommelier, owner of Parallel Food & Wine in Portland and president of Women in Wine Oregon.
Cyndi Gierok is the wine steward for Fred Meyer in Newberg, Ore.
Guy Harris is the owner of Cru Selections in Woodinville, Wash.
Clinton Hoiland is owner/operator of Twisted Vine Wine Tours, Lewiston, Idaho, and works Northern Idaho on- and off-premise sales for Idaho Wine Merchant.
Chris Horn, director of liquids at the Heavy Restaurant Group based in Seattle and co-author of Cook + Cork.
Lane Hoss is vice-president of operations and wine buyer for Anthony's Restaurants, which is headquartered in Kirkland, Wash.
Ellen Landis is a certified sommelier, journalist and renowned international wine judge with offices in St. Petersburg, Fla., and Windsor, Calif.
Allison M. Markin is a columnist/wine writer for Castanet Media and principal of AllSheWrote.ca in Penticton, British Columbia.
Brandon Lervold, a certified sommelier, is the cellar master at The Metropolitan Grill in Seattle.
Tim McDonald is the founder of Wine & Spirits Spoken Here, Napa, Calif.
JD Nolan is a certified sommelier/wine buyer/general manager/owner of Fat Olives Restaurants in Richland, Wash., and Homer, Alaska.
Tim O'Brien is the longtime corporate beverage director for Salty's Restaurants on Seattle's Alki Beach, Redondo Beach in Des Moines, Wash., and along Portland's Marine Drive.
April Reddout, proprietor of Reddout Wine Consulting, which is based in Washington's Columbia Valley.
Paul Zitarelli is the founder/owner of Full Pull Wines in Seattle and author of 36 Bottles of Wine.
Chief judges for the 2022 Invite are Dana Van Nest, a writer and communications strategist who is a contributor to Winebow and a student of the Napa Valley Wine Academy; and Liz Woerman, a columnist for Great Northwest Wine and director of hospitality/DTC for Barnard Griffin Winery in Richland, Wash.



Dane Campbell, Director of Retail Sales
PIKE ROAD WINES MOVES TO MCMINNVILLE, OR
PRESS RELEASE
June 24, 2022, McMinnville, Oregon - After 5 years pouring their wines in Carlton, OR, Pike Road Wines is moving to a new location in McMinnville's historic downtown at the east end of Third Street. The move was precipitated by the popularity of the winery that has outgrown its retail space in a historic bank building at 105 W Main Street in Carlton, OR. The Pike Road team has transformed the space at 701 NE 3rd street, formerly an insurance brokerage, into a wine bar that awaits finishing touches before opening in mid-June.
"The great little town of Carlton has been a wonderful home these 5 past years, but I love McMinnville too. I look forward to the diverse opportunities for Pike Road as part of the vibrant Third Street community."
– Dane Campbell, Director of Retail Sales, Pike Road Wines
Pike Road Wines launched in 2016 and is the sister winery to Elk Cove Vineyards, founded by Pat and Joe Campbell in 1974 and the first vineyard and winery in what is now the Yamhill-Carlton AVA (American Viticultural Area). Elk Cove is now in the second generation under Winemaker/Owner Adam Campbell and their wines are 100% estate-grown, whereas the Campbells purchase fruit from 20+ area growers in the northern Willamette Valley to produce their wines under the Pike Road label.
The new tasting room will provide room to grow while plans are made for a new winery location on Pike Road in Yamhill. Currently, Pike Road's winemaking and bottling take place at their sister winery Elk Cove in Gaston, OR. According to second-generation Winemaker/Owner Adam Campbell:
"In the coming years we hope to break ground on a winery surrounded by our vineyards off Pike Road in Yamhill, but we aren't ruling out a continued presence in McMinnville. This town has done so much to promote Oregon Wine from The International Pinot Noir Celebration to The Linfield Wine Studies program, and with more places to stay and dine, McMinnville is proving itself to be a center of the Willamette Valley wine community that's attracting visitors from all over the world."
– Winemaker/Owner Adam Campbell
The past 10 years have seen increasing numbers of wineries opening satellite tasting rooms in area towns like Carlton and McMinnville that are situated close to the wine-growing regions of Oregon's Willamette Valley.
About Pike Road Wines:
At Pike Road, we believe great winemaking starts with great farming. That's why we've made it our mission to support small family-owned vineyards to create wines of quality, value and integrity, sourcing fruit from over 20 farms in Oregon's northern Willamette Valley covering six unique sub-AVAs: Chehalem Mountains, Dundee Hills, Eola-Amity Hills, Laurelwood, Tualatin Hills & Yamhill Carlton. With over four decades of experience at Pike Road's sister winery Elk Cove Vineyards, our family has a long history here in Oregon's Willamette Valley. We are committed to preserving family farms through our longtime partnerships with growers from around the valley.
Quick facts about Pike Road:
• 15K annual case production
• Fruit sourced from Elk Cove's estate plantings and 20+ small vineyards in the northern Willamette Valley
• Wines include Pinot Noir, Rosé, Chardonnay, Pinot Gris, and Single Vineyard Pinot Noirs from
several well-known vineyards including Shea, Fairsing and Temperance Hill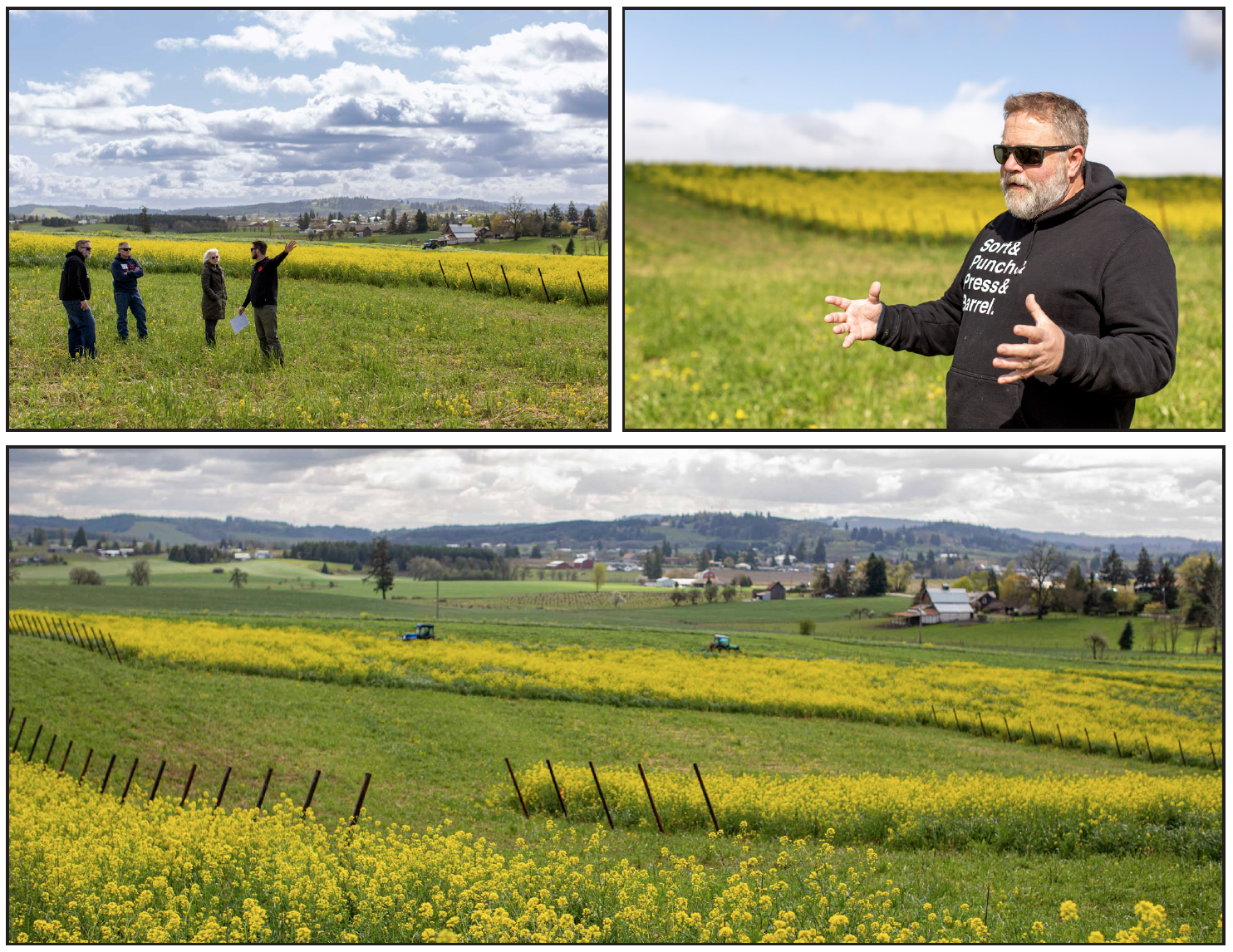 Visiting the proposed winery site on Pike Road in Yamhill, OR. Upper left: Adam Campbell, Travis Watson, Shirley Brooks & Dane Campbell. Upper right: Winemaker/Owner Adam Campbell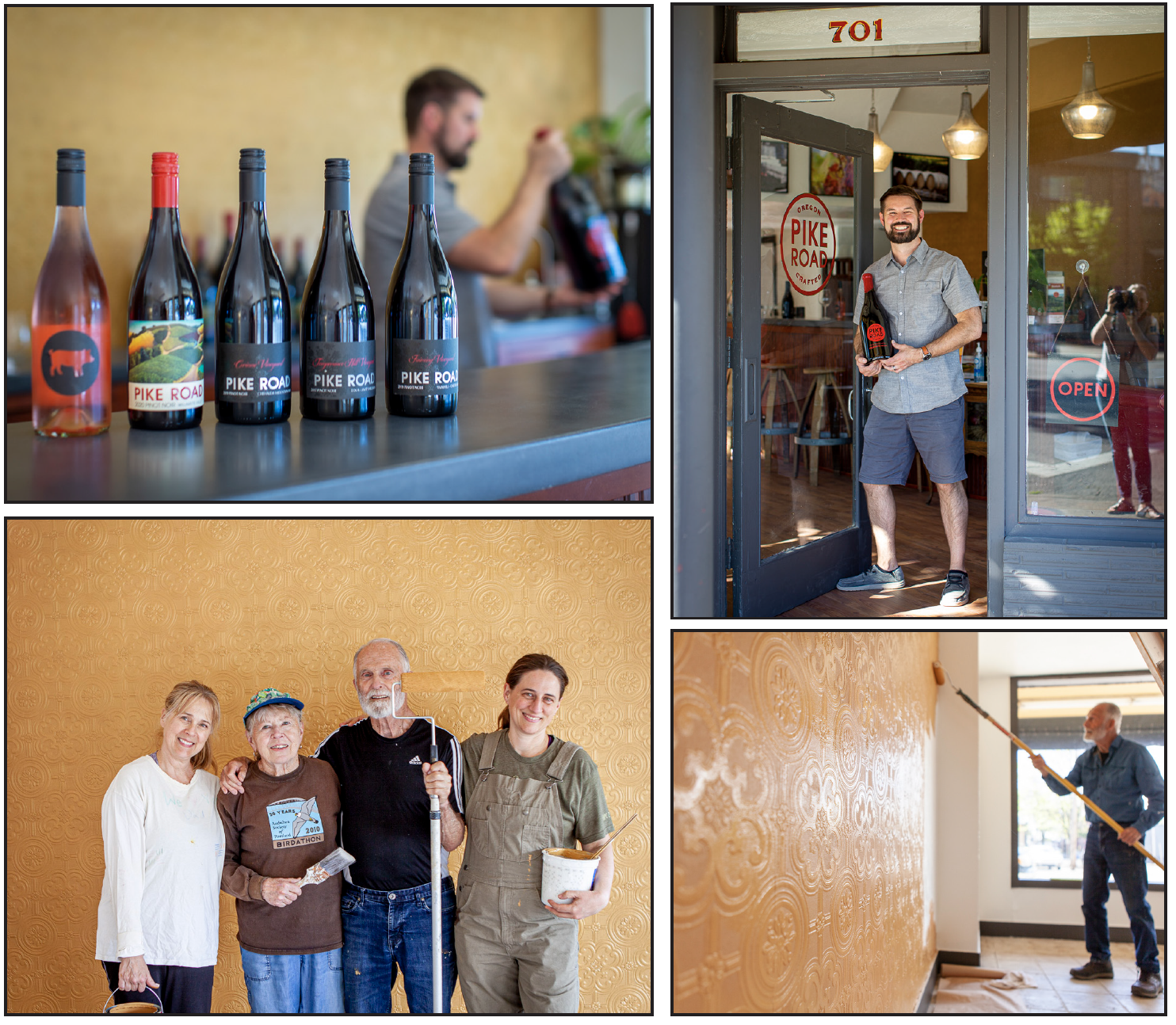 Left Top: Featured wines for Pike Road's opening weekend
Left Bottom: Members of the Campbell family painting crew, from left to right Eartha, Pat, Joe and Anna Campbell
Right Top: Dane Campbell, Director of Retail Sales, Pike Road Wines ready to open
Right Bottom: Elk Cove co-founder Joe Campbell, age 83 painting the gold wall in the new space
Follow this link for a PDF version of this press release: Pike Road in McMinnville Press Release

93 Points
2019 Shea Vineyard Pinot Noir
Glistening ruby-red. Intensely perfumed cherry and dark berry scents are complemented by suggestions of cocoa powder, baking spices and pungent flowers. Juicy and focused on the palate, offering appealingly sweet red and blue fruit flavors that turn livelier as the wine opens up. The berry and floral notes drive a very long, gently chewy finish framed by fine-grained, even tannins. - Josh Raynolds, February 2022
93 Points
2019 Temperance Hill Vineyard Pinot Noir
Brilliant ruby. Mulberry, cherry cola, licorice and succulent flowers on the deeply perfumed nose. Juicy red and blue fruit preserve, baking spice and floral pastille flavors deepen slowly as the wine opens up. Blends richness and energy with a sure hand and finishes very long, spicy and gently tannic, leaving kirsch and botanical herb notes behind. - Josh Raynolds, February 2022
92 Points
2019 Fairsing Vineyard Pinot Noir
Dark magenta. Kirsch, blackberry, violet and potpourri aromas show sharp clarity and building spiciness. Chewy and broad on the palate, offering bitter cherry, dark berry, spicecake and botanical herb flavors that turn sweeter and livelier through the back half. Finishes smoky and long, with repeating dark berry character and dusty tannins that build steadily and add firm closing grip. - Josh Raynolds, February 2022
92 Points
2019 Meyer Vineyard Pinot Noir
Vivid ruby. Fresh red and blue fruit, floral and baking spice scents show fine clarity and spicy lift. Palate-caressing raspberry, boysenberry and floral pastille flavors deepen steadily through the back half. Betrays no rough edges and finishes smooth and long, with sneaky tannins and lingering blue fruit and spice notes. - Josh Raynolds, February 2022
90 Points
2019 Corinne Vineyard Pinot Noir
Bright ruby-red. Aromas of blackberry, cherry pit and pungent flowers pick up licorice and spice nuances with aeration. Juicy and focused in the mouth, offering bitter cherry and dark berry flavors and a sweetening touch of mocha. The spicy note repeats on the gently tannic and nicely persistent finish, which leaves a succulent herb note behind. - Josh Raynolds, February 2022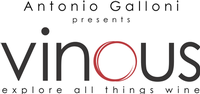 90 Points
2019 Willamette Valley Chardonnay
"A fruity nose of pears, mangoes, peaches and lemons. It's medium-bodied with a creamy texture and a clean finish." - James Suckling, July 2021
90 Points
2019 Matteri Vineyard Chardonnay
"Baked apple, apricot, mango, brioche and lemon curd on the nose. It's medium-to-full-bodied with a creamy, ripe and fruity palate." - James Suckling, July 2021

91 Points
2019 Willamette Valley Pinot Noir
"Pleasing dried-strawberry character with dark cherries and hints of dried lemons. It's medium-bodied with round, easy tannins and a fresh finish." - James Suckling, July 2021

91 Points
2019 Corinne Vineyard Pinot Noir
"A pretty nose of raspberries, cherries, dried leaves and spices. Medium-bodied with fine tannins and bright acidity. Vibrant and fruity with sweet, juicy character. Supple finish." - James Suckling, July 2021
92 Points
2019 Fairsing Vineyard Pinot Noir
"Aromas of redcurrants, plums, licorice and spice box. It's medium-bodied with sleek tannins. Ripe and fruity with a sweet, creamy finish." - James Suckling, July 2021

91 Points
2019 Shea Vineyard Pinot Noir
"Ripe strawberries with blackberry and light coffee-bean undertones. It's medium-bodied with fine tannins and a fresh finish." - James Suckling, July 2021

91 Points
2019 Meyer Vineyard Pinot Noir
"Cherry, redcurrant and dried-herb aromas with baking-spice undertones. It's medium-bodied with ripe tannins. Fruity and ripe with sweet fruit on the supple finish." - James Suckling, July 2021

93 Points
2019 Temperance Hill Vineyard Pinot Noir
"Very ripe strawberries with plums and perfumes on the nose, as well as a touch of cedar. Medium body and very fine, well-integrated tannins. Fresh and lightly savory, as well as fruity." - James Suckling, July 2021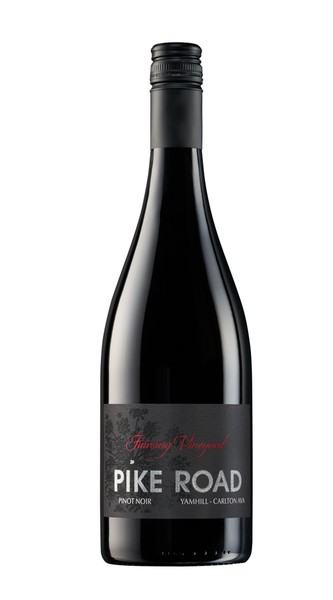 Our 2019 Fairsing Vineyard Pinot Noir was awarded a 92 point score by Wine Enthusiast Magazine!
"Along with value-priced varietal wines, Elk Cove's sister winery offers limited-production single vineyard Pinots from non-estate sources. This fragrant wine opens with violets and raspberries and then moves into a spicy palate loaded with plums and blueberries. The acidity sparkles and pushes bright fruit flavors into a lingering finish. Given its screw cap seal, this wine should be decanted and will retain freshness for many years to come." - Paul Gregutt, Contributing Editor
This review published in the December, 2021 issue of the magazine.
Wine Enthusiast's 100-point wine-scoring scale:
98–100 – Classic. 94–97 – Superb. 90–93 – Excellent. 87–89 – Very good.
Learn more at winemag.com


Pike Road is here to help you prepare for the holidays!

You can view our holiday offerings in our catalog and online shop, including a trio of our popular Rosés. These are fantastic holiday wines because they bring a merry and bright look to any table, plus a rosé pairs well with many traditional holiday dishes.
Whether you're stocking your cellar in anticipation of company or sending a special gift, we'd be honored to be part of your celebrations. To help you send cheer, we've got flat-rate $10 shipping available on all orders now through December 16th.

Cheers a cozy and festive holiday season!