July 19, 2019 | Anna Campbell
91 Points for our 2017 Chardonnay in James Suckling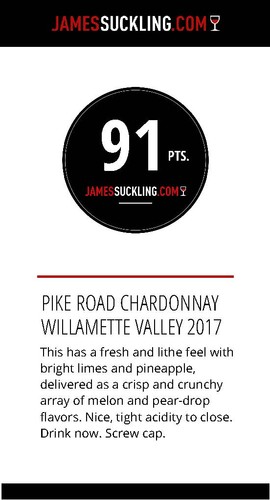 Our 2017 Chardonnay received an outstanding 91 points from James Suckling. Here's what they had to say:
"This has a fresh and lithe feel with bright limes and pineapple, delivered as a crisp and crunchy array of melon and pear-drop flavors. Nice, tight acidity to close." - James Suckling
JamesSuckling.com uses a 100-point scale, with 90 points or more being outstanding. "It's a wine I want to drink a glass of and is an outstanding purchase." - James Suckling
This review was published 05/14/2019 at www.jamessuckling.com
Comments
Commenting has been turned off.