August 6, 2020 | Anna Campbell
92 Points - 2018 Meyer Vineyard Pinot Noir
Josh Raynolds of Vinous awarded our 2018 Meyer Vineyard Pinot Noir a 92 point score:
"Limpid ruby-red. Ripe red and blue fruits, pungent flowers, baking spices and a hint of smoky minerals on the deeply perfumed nose. Juicy and energetic on the palate, offering intense boysenberry and black raspberry flavors supported by a core of juicy acidity. The spice and floral notes come back strong on a long, seamless finish, where pliant tannins sneak in late." - Josh Raynolds, August 2020
Vinous has subscribers in over 80 countries and is one of the most respected wine publications in the world. At the intersection of media and technology, Vinous is Antonio Galloni's vision of a modern-day wine publication. Vinous's team of renowned critics and writers offers in-depth coverage of new releases, retrospectives and verticals of older wines, videos with winemakers, interactive maps, restaurant recommendations and more, all published in a continual, daily stream of articles.
Learn more and read the reviews at vinous.com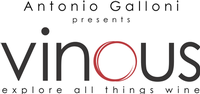 Comments
Commenting has been turned off.