August 6, 2020 | Anna Campbell
93 Points - 2018 Shea Vineyard Pinot Noir
Josh Raynolds of Vinous awarded our 2018 Shea Vineyard Pinot Noir a 93 point score:
"Light magenta. Sexy, highly perfumed aromas of red and dark berries, candied flowers and allspice, along with vanilla and smoky mineral qualities in the background. Juicy and concentrated, showing very good energy to the boysenberry, cherry preserve and spicecake flavors. Becomes fleshier with air and finishes with fine clarity, sneaky tannins and repeating florality." - Josh Raynolds
Vinous has subscribers in over 80 countries and is one of the most respected wine publications in the world. At the intersection of media and technology, Vinous is Antonio Galloni's vision of a modern-day wine publication. Vinous's team of renowned critics and writers offers in-depth coverage of new releases, retrospectives and verticals of older wines, videos with winemakers, interactive maps, restaurant recommendations and more, all published in a continual, daily stream of articles.
Learn more and read the reviews at vinous.com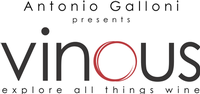 Comments
Commenting has been turned off.