July 19, 2019 | Anna Campbell
93 Points for our 2017 Zenith Vineyard Pinot Noir in James Suckling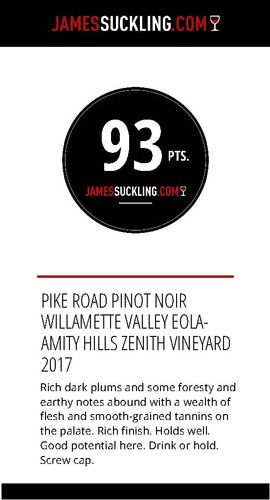 Our 2017 Zenith Vineyard Pinot Noir received a fantastic 93 points from James Suckling. Here's what they had to say:
"Rich dark plums and some foresty and earthy notes abound with a wealth of flesh and smooth-grained tannins on the palate. Rich finish. Holds well. Good potential here. Drink or hold." - James Suckling
JamesSuckling.com uses a 100-point scale, with 90 points or more being outstanding. "It's a wine I want to drink a glass of and is an outstanding purchase." - James Suckling
This review was published 05/14/2019 at www.jamessuckling.com
Comments
Commenting has been turned off.