October 13, 2022 | Anna Campbell
Double Gold - Northwest Wine Invitational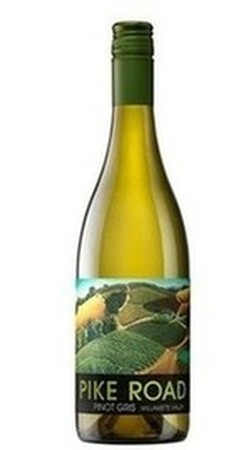 Pike Road Wines 2021 Pinot Gris won Double Gold at the Great Northwest Wine Invitational!
Great Northwest Wine conducts a one-of-a-kind wine competition each October where judges evaluate the wines from the Pacific Northwest. This year Oct. 4-6 2022 was the 10th annual competition and was held at the historic Columbia Gorge Hotel in Hood River, Or.
"The Campbell family's Elk Cove Vineyards and Pike Road Wines brands in the Willamette Valley saw four of its wines win a gold or better. The Elk Cove 2018 Estate La Bohème Brut Rosé reached the sweepstakes as the Best Sparkling Wine. It was nearly joined in the sweeps by the 2021 Estate Pinot Noir, which won a double gold and earned acclaim as Best Pinot Noir of the judging. The Elk Cove 2020 Estate Riesling was a high-scoring gold. The Pike Road 2021 Pinot Gris, made by associate winemaker Heather Perkin, won a double gold medal and was voted Best Pinot Gris, which was no surprise considering her Pike Road 2016 Pinot Gris won best of show at the 2017 Invite." - Eric Degerman, co-founder of Great Northwest Wine
Nominating judges for the 10th annual Great Northwest Invite include:
Katie Bray is the executive director of the Oregon Cheese Guild.
Ilene Dudunake owns A New Vintage Wine Shop near Boise, Idaho. (Read her profile in the Idaho Statesman.)
Stacey Gibson is an advanced sommelier, owner of Parallel Food & Wine in Portland and president of Women in Wine Oregon.
Cyndi Gierok is the wine steward for Fred Meyer in Newberg, Ore.
Guy Harris is the owner of Cru Selections in Woodinville, Wash.
Clinton Hoiland is owner/operator of Twisted Vine Wine Tours, Lewiston, Idaho, and works Northern Idaho on- and off-premise sales for Idaho Wine Merchant.
Chris Horn, director of liquids at the Heavy Restaurant Group based in Seattle and co-author of Cook + Cork.
Lane Hoss is vice-president of operations and wine buyer for Anthony's Restaurants, which is headquartered in Kirkland, Wash.
Ellen Landis is a certified sommelier, journalist and renowned international wine judge with offices in St. Petersburg, Fla., and Windsor, Calif.
Allison M. Markin is a columnist/wine writer for Castanet Media and principal of AllSheWrote.ca in Penticton, British Columbia.
Brandon Lervold, a certified sommelier, is the cellar master at The Metropolitan Grill in Seattle.
Tim McDonald is the founder of Wine & Spirits Spoken Here, Napa, Calif.
JD Nolan is a certified sommelier/wine buyer/general manager/owner of Fat Olives Restaurants in Richland, Wash., and Homer, Alaska.
Tim O'Brien is the longtime corporate beverage director for Salty's Restaurants on Seattle's Alki Beach, Redondo Beach in Des Moines, Wash., and along Portland's Marine Drive.
April Reddout, proprietor of Reddout Wine Consulting, which is based in Washington's Columbia Valley.
Paul Zitarelli is the founder/owner of Full Pull Wines in Seattle and author of 36 Bottles of Wine.
Chief judges for the 2022 Invite are Dana Van Nest, a writer and communications strategist who is a contributor to Winebow and a student of the Napa Valley Wine Academy; and Liz Woerman, a columnist for Great Northwest Wine and director of hospitality/DTC for Barnard Griffin Winery in Richland, Wash.

Comments
Commenting has been turned off.