October 2, 2019 | Anna Campbell
Holiday Catalog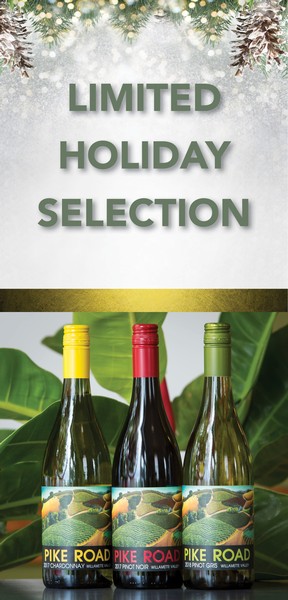 Pike Road is here to help you prepare for the holiday season!
Whether you're stocking your cellar in anticipation of company and holiday meals or sending someone a special gift, we'd be honored to be part of your holiday celebrations. You can view our holiday offerings in our catalog and in our online shop. Thanks to some great reviews, this year we've included our 90+ Point Trio of Chardonnay, Pinot Noir & Pinot Gris.
We offer volume and club discounts for half-case and mixed-case purchases and we're happy to help you with a custom gift for someone special in your life. Cheers!
We also offer:
Custom Gift Packages
Corporate Gifts
Electronic Gift Certificates
(One Year) Gift Wine Club Memberships
Contact us to arrange:
(503)852-3185
Comments
Commenting has been turned off.